Cramer | Sports Arm Compression Sleeve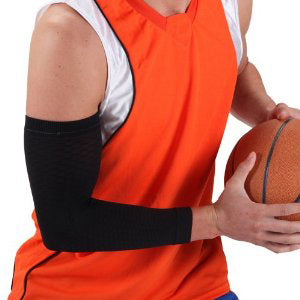 Cramer | Sports Arm Compression Sleeve
Product Description
Description

Features

What's Included

Helpful Product Information
Description
Mild graduated compression allows for better blood flow throughout the arm, improving recovery time.
Targeted compression for correct support and fit. Anti-microbial finish.
Patented articulated elbow for unrestricted motion.
Black colour. 1 individual sleeve per pack (1 limb only).
What's Included
1 arm compression sleeve (black). 1 limb only.
Helpful Product Information
One size - fits up to 14" elbow circumference. Measure circumference of elbow at the largest point.
Fitting Instructions:
1. Gather the length of the sleeve to the smallest opening, with marker stripes to top of sleeve.
2. Place arm through opening and draw up the arm.
3. Position articulated pocket with ribbing in bend of elbow.
4. Smooth out all wrinkles and position until comfortable.
Warning: Never roll down top of sleeve, or exceed recommended sizing guidelines.