Freedom Alert Emergency System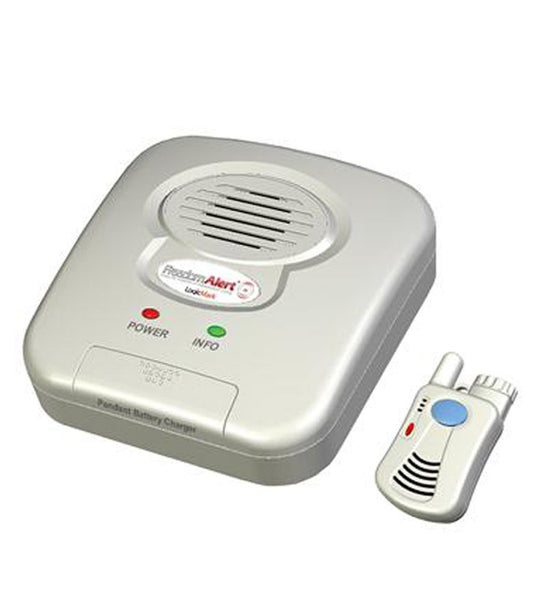 Freedom Alert Emergency System
Product Description
Description

Features

What's Included

Helpful Product Information
Description
Very small 2-way voice emergency pendant communicator.
Program up to 4 numbers for family/friends - calls 911 if no answer on programmed numbers.
No monthly fees, activation costs or contracts. For use in any home with a regular touch-tone home phone line.

DECT (Digital Enhanced Cordless Telecommunications) communication technology.
Features
Program up to 4 numbers of family/friends. The system dials the first number. If it reaches someone to take the call, it then continues the conversation. If no one is reached, it dials the next number, etc.
Slide switch on the base unit allows you to select 3 modes:
1) Call up to 4 custom contacts.
2) Call up to 4 custom contacts, then 911 if no one is available.
3) Immediately call the 911 emergency operator.
Pendant is water resistant.
Answer an incoming phone call with the pendant.
Extra telephone jack in base for the regular phone if extra jack is needed.
Voice over IP (VoIP) compatible
What's Included
Base Station with rechargeable batteries
Pendant with 2 rechargeable batteries (one charges in base while other is being used)
AC Adaptor
Lanyard, belt clip and wrist strap
Telephone cord
Helpful Product Information
Coverage:
The system is designed to coveran average sized home and into the front, side and back yards. Range is easily tested with audible confirmations.