ObusForme | 2-in-1 Low Back Backrest Support System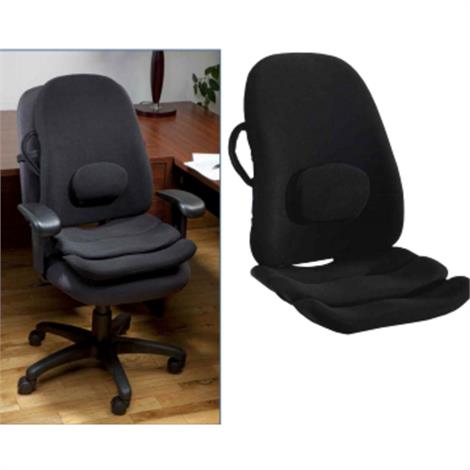 ObusForme | 2-in-1 Low Back Backrest Support System
Product Description
Description

Features

What's Included

Helpful Product Information
Description
2 unique pieces - back rest with removable lumbar support roll, and seat cushion.
The backrest provides supportive comfort and the contoured seat cushion evenly distributes your body weight.
Scientifically proven to reduce pressure on your back by 35%. Realigns your spine and supports correct posture. The engineered shape conforms to natural spinal curvature. Contoured shape of the seat cushion encourages alignment of the pelvis and thighs.
Features
Biomechanically molded, impact resistant polycarbonate core structured frame.
The removable lumbar pad provides additional comfort for the lower back by supporting the lumbar curve.
Flexible support panels biomechanically contoured to evenly distribute body weight and relieve pressure points.
Contoured back and sides hold pelvis and hips in a balanced position.
Removable front segment provides optimal fit for narrow chairs or benches.
What's Included
1 low back backrest support system (both lumbar support back and seat cushion)
Helpful Product Information
Unlike traditional "l" shaped chairs, the "S" shaped ObusForme Low Back Backrest Support positions your spine for proper anatomical alignment, relaxing muscles and easing pain.
The companion contoured seat cushion is designed to place the pelvis and hips in a comfortable, balanced position, evenly distibuting body weight and reducing spinal strain.