Drive | Nitro HD Rollator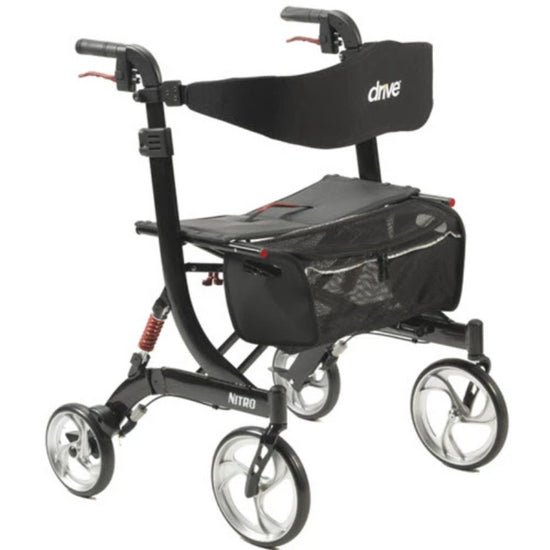 Drive | Nitro HD Rollator
Product Description
Description
Drive Nitro HD Rollator is a lightweight, bariatric, wide, 4-wheeled rollator. Designed to provide a high level of stability and support for those who are ambulatory, but have decreased mobility and a high risk of falling.
Attractive, Euro-style design.
Brake cable inside frame for added safety.
Handle height easily adjusts with a unique push button.
Unique suspension system for support and comfort.
Back support height easily adjusts with a tool-free thumb screw.
Caster fork design enhances the turning radius.
Large 10" front casters allow optimal steering and rolling comfort.
Easily folds with one hand to ultra-compact size for storage.
Underseat locking mechanism holds the Nitro closed when the frame is folded.
Cross-brace design allows for side-to-side folding and added stability.
Seat is durable and comfortable.
Handsome and removable zippered storage bag with a unique attachment to keep bag securely in place when the Nitro is open or folded.
Lightweight aluminum frame.