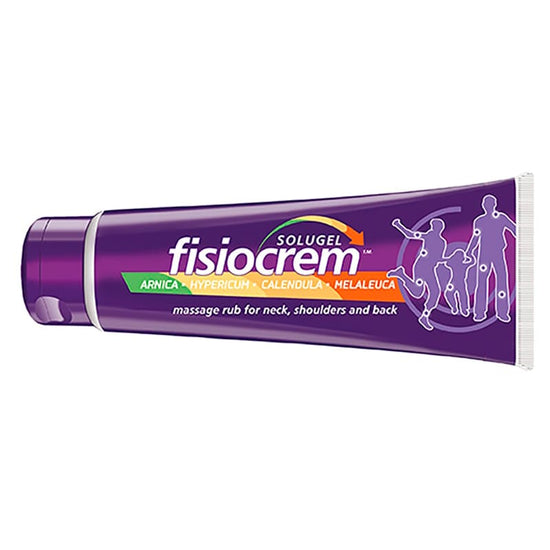 Product Description
Description

Features

What's Included

Helpful Product Information
Description
Topical solution containing herbal active ingredients, including Arnica, which is traditionally used in herbal medicine to help relieve pain and inflammation in muscles and joints. Fisiocrem Solugel also contains menthol, which temporarily relieves aches and pains.
250g tube with flip lid to reduce messiness during application.
Features
Recommended dose (adults):
Apply thinly and evenly to the affected area up to 3-4 times per day. Rub and massage into skin until the preparation disappears. Consult a physician or health care practitioner for use beyond 7 days.
Contraindications:
Do not apply to wounds or broken skin. Do not bandage. Do not apply with external heat (example: heating pad, etc.) as this can cause irritation or burns. Do not use if you are allergic to plants of the Asteraceae/Compositae/Daisy/Myrtaceae family.
What's Included
1 Fisiocrem Solugel tube (250g)
Helpful Product Information
Medicinal Ingredients:
Arnica 10.5% w/w
Calendula 2.5% w/w
Hypericum 2.5% w/w
Menthol 2.5% w/w
Tea Tree essential oil 1% w/w
Non-Medicinal Ingredients:
Canola oil, Purified water, Sodium acrylates copolymer, Lecithin, Sodium anisate, Citric acid.
Cautions and Warnings:
For external use only. If you experience pain, swelling or blistering, stop use and get medical help right away. Rashes and/or burning discomfort and hypersensitivity (example: allergy) have been known to occur; in which case, discontinue use. If symptoms persist and/or worsen after 7 days or re-occur within a few days, discontinue use and consult a health care practitioner. If you are pregnant or breastfeeding, consult a health care practitioner prior to use. Keep out of the reach of children. Avoid contact with the eyes and mucous membranes; if contact occurs, rinse thoroughly with water. If overdose or accidental ingestion occurs, call a Poison Control Center immediately. Store at room temperature below 30 degrees Celcius. Safety sealed for your protection, do not use if seal is broken or missing.