ObusForme | Back Belt (Unisex)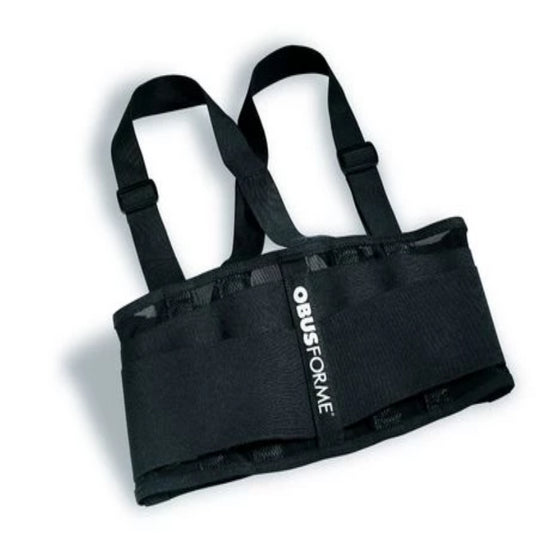 ObusForme | Back Belt (Unisex)
Product Description
Description

Features

Helpful Product Information
Description
Lumbar support belt designed for both men and women. Promotes proper posture and body mechanics during any activity and sport.
Functional design with removable and adjustable suspenders to allow a comfortable fit, permitting the belt to hang from the shoulders when not in use.
Elastic abdominal side panels provide as much or as little compression as desired for different activities.
Five flexible enclosed stays located in the middle of the lower back and on either side of the lumbar area, help provide extra support.
Breathable nylon mesh wrap minimizes the build-up of perspiration.
Features
AutoRamp™
ResMed's new AutoRamp feature with sleep onset detection delivers a low pressure to help you fall asleep with ease. Once you're asleep, your CPAP machine comfortably ramps up the pressure to ensure the prescribed level is delivered the moment you need it.
Consistent humidification Consistent humidification throughout the night with the integrated HumidAir™ humidifier and optional ClimateLineAir™ heated tube with Climate Control technology can provide a more comfortable experience.
Press start and go.The AirSense 10 CPAP machine has been designed to make therapy easy. With no complicated settings or menus to navigate, simply press Start and you're ready to go.
The quiet Easy-Breathe motor makes for a peaceful environment for you and your bed partner.
The user-friendly controls, intuitive interface and color LCD screen make it simple to navigate menus and customize comfort settings.
The SmartStart™ function begins your sleep apnea therapy as soon as you breathe into your mask. When you remove your mask, it stops automatically after a few seconds.
The built-in ambient light sensor adjusts to the brightness of the room. So if you need to get up during the night, the screen's back light won't disrupt your bed partner. The light also turns off automatically, so you can settle back to sleep without disturbance.
Helpful Product Information