ProActive | Thera3+ TENS Device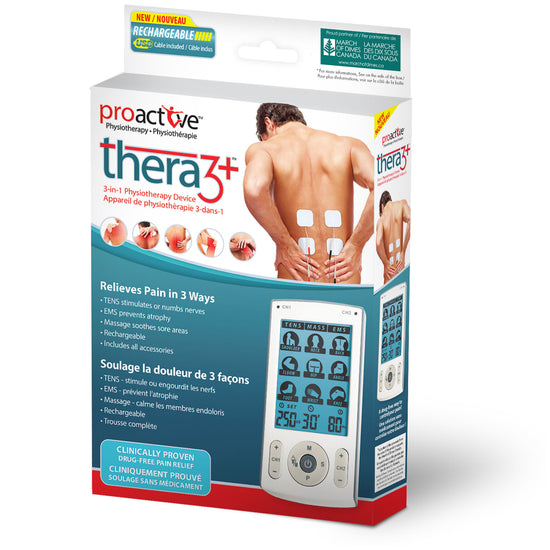 ProActive | Thera3+ TENS Device
Product Description
Description

Features

What's Included

Helpful Product Information
Description
Relieves pain in 3 ways:
- TENS
- EMS
- Massage
Clinically proven drug-free pain relief.
Rechargeable. 
Features
TENS - helps numb nerves to decrease pain.
EMS - promotes muscle activation and decreases atrophy.
Massage - soothes sore areas.
78 programs to get you started - use one of the presets or fully customize treatment according to your doctors specifications.
Large, easy-to-read screen - makes it easy to select the right settings for you.
Integrated timer.
What's Included
1 Thera3+ device
4 electrode pads with leads
1 USB charging cable
1 carry case
Helpful Product Information
TENS = Transcutaneous Nerve Stimulation
EMS = Electrical Muscle Stimulation
Digital screen